Seven Seas of Fleas
A picture book about a boy, his dog, a swarm of pesky fleas and an unexpected friendship. Oh, and a cup of lemonade tea. Published by Starfish Bay Publishing and CBCA Shortlisted for the New Illustrator award in 2021. Read the CBCA judge's critique.
The beginning
Seven Seas of Fleas began as a short poem that I wrote many years before it become a picture book. The poem was very different to the current story however, the underlying themes of flying, adventure and imagination were already there and I felt that, although it needed a lot of work, it had the potential to become a book.
It's funny where inspiration comes from. The smallest thing can spark a great idea. Thinking back, I remember that the Oasis song Live Forever had somewhat of an influence on the poem, particularly the opening lines from the song.
Maybe I don't really want to know
How your garden grows
'Cause I just want to fly
Those lines sparked something in me, a feeling of wild abandon and adventure and with those words whirring through my head, the first lines of the poem were written.
Another spark of inspiration (and encouragement) came from travelling through Mysuru in the south of India. One day, while I was out wandering the back streets, I stumbled upon a group of men busily working away on old typewriters. As I stood and watched I realised that people were paying them to fill out some sort of paperwork or documents and I had an idea. I waited in line and handed my sketchbook to one of the men. He looked at the scribbled text and then looked up at me a little confused and asked if I just wanted the text typed. "Yes, please" I said, with a big grin. I watched him tap away at the well-worn keys, wondering if he could read my scribbled nonsense but eventually he looked up and handed over a piece of paper. I thanked him, paid and wandered off with a little memento of the trip. I later realised that he had misinterpreted some of the words, making it all the more quirky.
Giving the poem to someone else to read had a huge effect on my confidence, not only in the poem but as an author. I realised that I hadn't actually shared it with anyone up to that stage as I didn't think it was good enough but holding the typed version in my hands made it seem more real, as if it had already been published.
The process
I usually start out with an idea and a couple of lines of text or maybe a short poem, or sometimes I already have a character created and I'm looking for the right story to fit them into. There's not really a prescribed method, for me, it all seems to happen simultaneously.
I found Bryce quite hard to draw at first, he didn't really want to be born onto the page. He started out with wings but that didn't feel quite right, so I searched for another flying device and eventually, I realised a dandelion was the perfect companion, sort of like a sidekick. After that, he still went through a lot of changes until I found a nice balance of proportion, youth and playfulness.
At the same time, I continued to work on the story, rewriting almost all of the text and re-doing the storyboards to match the new story edits. Pages were shuffled around and scenes were added and deleted. There was also another main character, Bryce's sister, who went by the name of the Flea Queen. You can see the first drawings of her in my sketchbooks to the right. I originally thought she would make the story more interesting but as it evolved I realised I was overcomplicating things, so unfortunately I had to edit her out, too.
The sketchbook below shows some of the page layouts that I thought were working quite well. I then took these and worked them up on larger pieces of paper, drawing them over and over again until they felt right. Then I scanned the drawings and finished the scenes, adding colour and texture (shown below) in Photoshop.
Body language and movement
Seven Seas of Fleas is about a boy who imagines he can fly so, in bringing the story to life, it was important to create a strong sense of movement on every page. To achieve this I made sure, particularly with Bryce, that I exaggerated and contorted his features to emphasise movement and flow.
I also tried to draw the characters as if they were acting out each scene, like in a theatre play. This helped to keep things light-hearted and it also brought a goofy energy to each character's body language and movement.
You'll notice that most of the action moves across the page from left to right. This is done intentionally as it helps move the story forward and also increases the desire to turn the page. Only when the chase ends between Bryce and the fleas does the direction of movement change. This is just one method you can use to enhance the movement within the narrative. Hairy Maclary is another book that uses left to right movement to great effect.
If you're wondering how I created some of the scenes in the book where Bryce is running or flying, I acted these scenes out in my studio, imagining that I was flying, or waving a dandelion around, swatting fleas.
You wouldn't want to be a fly on the wall during these acting sessions (or maybe you would 😉) but by putting yourself in the scene, you can work out how your characters move, or which side big toes should be on.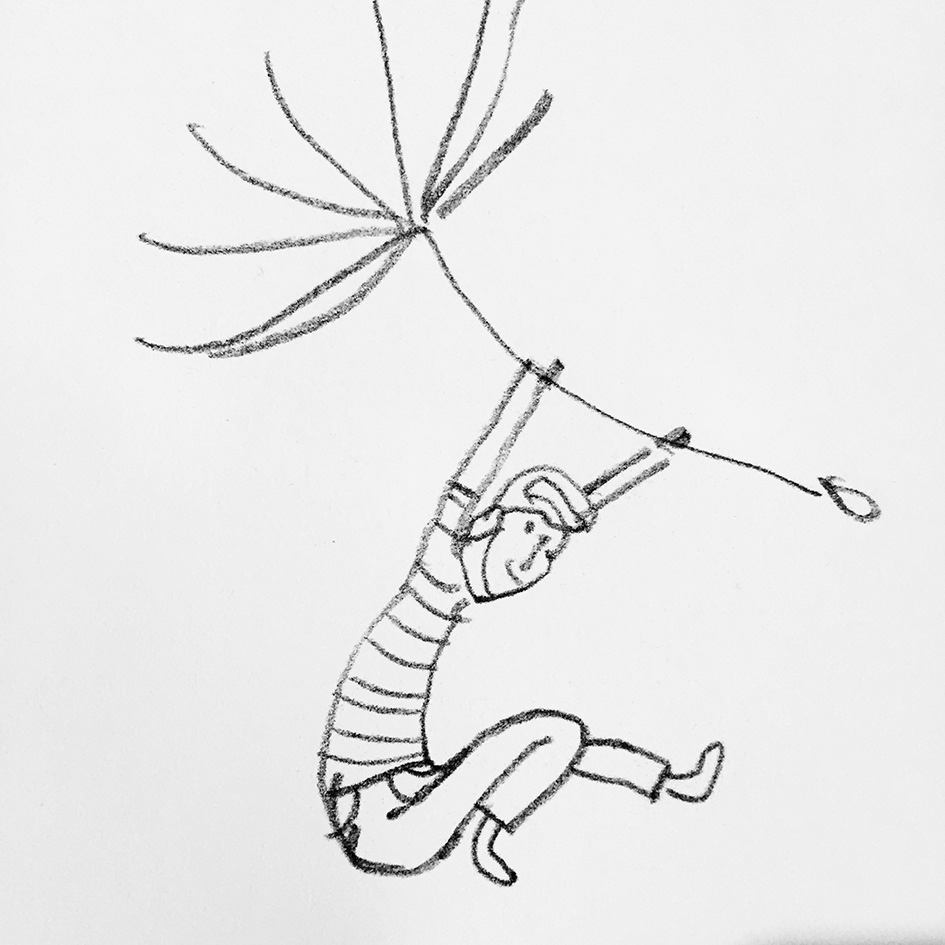 Creating the characters
Creating characters takes a lot of time and many attempts to get them just right.
When it came to creating Bryce I had to think a lot about his life outside of the book - what his room looks like, his parent and siblings, his likes and dislikes, sports, interests and his desires - and through that process a lot of questions started to arise; where did he get that old pair of aviator goggles from? Maybe he found them in a dress-up box? Who knows, but it was important to think about all these things and his back story so that he became a believable character that people could relate to.
As you may have noticed, there's also a dog in the book and his name is Sunny. Sunny was the last character to be created and that was because I had envisaged a really friendly, scruffy-looking dog and they, apparently, are hard to find. But one day, while at a café, I saw the dog that I had been looking for - the real-life Sunny. I took a photo, came home and started drawing him. Later, I met Sunny's parents who were ecstatic to find out that he was going to be one of the main characters in a picture book.
Another character to consider is the scenery. Yep, that's right, the scenery is a character and it needs to have a personality and a back story too. I wanted the scenery in Seven Seas of Fleas to be vibrant and playful, like the other characters, so I took inspiration from my childhood memories of my grandfather's backyard and from plants and gardening paraphernalia that I found interesting and quirky. This helped in creating a believable backdrop in which the main characters could play.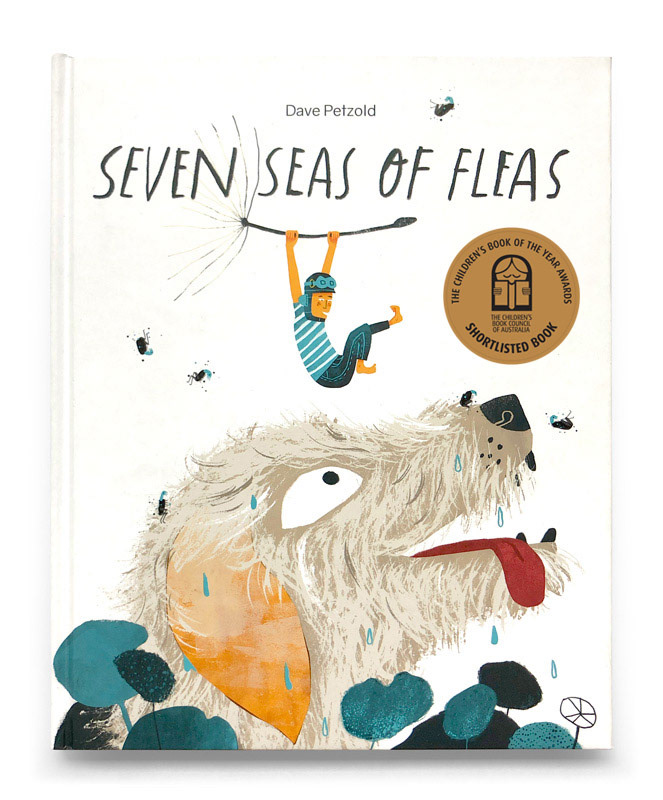 Contrast and colour
Contrast is an important element of any picture book. Contrasting shapes and colours, composition and even language can create drama and intrigue, and when used well, can help guide the reader through the narrative.
Seven Seas of Fleas is a goofy, bold and imaginative story and to help strengthen those qualities I decided to keep the colour palette minimal and just use blue and yellow. These would be the hero colours, you could say. I allowed for a few extra tones of each colour to bring in some variation, and I also used a range of beiges and browns that would work as supporting colours.

The tricky part of using a minimal colour palette is that everything starts to look repetitive. So, to keep things interesting, I allowed for slight colour differences to occur when adding textures and patterns. I don't generally use traditional materials during this phase, so this helped in making things look a bit more natural, while still presenting a coherent visual language.